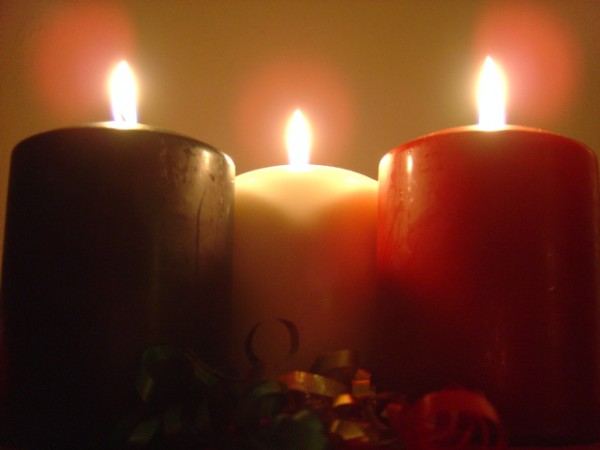 "This is what was spoken by the prophet Joel: 'In the last days, God says, I will pour out my Spirit on all people. Your sons and daughters will prophesy, your young men will see visions, your old men will dream dreams. Even on my servants, both men and women, I will pour out my Spirit in those days, and they will prophesy. I will show wonders in the heaven above and signs on the earth below, blood and fire and billows of smoke. The sun will be turned to darkness and the moon to blood before the coming of the great and glorious day of the Lord. And everyone who calls on the name of the Lord will be saved'" (Acts 2:16-21).
The audience on Pentecost was trying to make sense of the confusing scene unfolding before their eyes. Men were speaking of spiritual matters and everyone else was hearing them in their own heart language.  Some illogically thought these speakers must be drunk. But Peter quoted from Joel 2 to show what was really taking place. This was the prophesied outpouring of the Holy Spirit that must come at the beginning of the last great epoch of mankind before the Lord Himself came to rule over the planet.
It is understandable that almost 2000 years later we find ourselves focusing on the phrases Joel uses to describe what was to happen: prophecy, visions, dreams, signs and wonders, blood and fire, and billows of smoke. But to spend much time on these things is to miss the purpose of this great outpouring. Joel makes clear the purpose in Acts 2:21: "and everyone who calls on the name of the Lord will be saved."
The Spirit was poured out on Pentecost to open wide the gates of salvation. Believers in Jesus, not just that day, but throughout history, would be empowered through the Spirit to be witnesses. 3,000 were added to their number that day through the work of the Spirit in the lives of the believers. Nothing has changed in the plans of God. As Spirit-filled believers begin to speak of Jesus, the Lord will add to their number those who are being saved.
Lion of Judah, how I desperately need the power of Your Holy Spirit in my life today. I have tried to do Your work in my own strength and power and have failed. I need You! Help me to embrace the work of the Holy Spirit in my life. Lord, I long to see the kind of response that occurred on the Day of Pentecost in our churches today. May I turn from human methods and techniques and commit to seek You in Your power and glory. Come Holy Spirit!  
Adapted from Revolution on Our Knees: 30 Days of Prayer for Neighbors and Nations by David and Kim Butts. This book is available at prayershop.org. Use the code CONPSP3 at checkout to receive an additional 10% discount.
Prayer Points
Pray Daniel's words of praise: "Praise be to the name of God for ever and ever; wisdom and power are his" (Dan. 2:20). Thank God for guiding you to make wise choices in life. Confess times when you chose to follow the foolishness of this world's wisdom rather than the wisdom of God. Commit yourself to seeking the "Spirit of wisdom and of understanding" (Isa. 11:2). Ask God to give to you the "wisdom that comes from heaven" (Jas. 3:17).
Pray for the ability to keep your testimony simple and genuine as you cross paths with people who are trying to understand the things of God.
–Prayer Points taken from Patterns for Prayer by Alvin VanderGriend. This book is available at prayershop.org. Use the code CONPSP3 at checkout to receive an additional 10% discount.
CHRISTMAS GIFT IDEA: Check out our clearance books before they are gone! We have several very good resources that would be wonderful Christmas gifts for friends and family. Click here to browse and purchase!
**The dollars you spend on our resources help Harvest Prayer Ministries to train churches to become houses of prayer for all nations! Visit our online PrayerShop! You will find many valuable resources on prayer to help you, your family and your church!
Connection (Devotions for Everyday Life) © 2016 is published daily by Harvest Prayer Ministries. Subscribe here.